Ladytron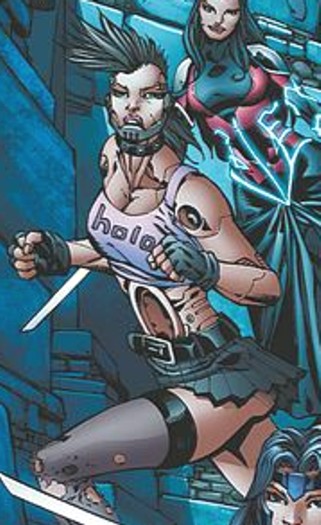 Ladytron

Maxine Manchester

F) Rm30
A) Ex20
S) Rm30
E) Rm30
R) Gd10
I) Ex20
P) Gd10

Health: 110 Karma: 40
Resources: Gd Pop: 0

Known Powers:
Cybernetic Construct: Ladytron is a cyborg with the following abilities:
-Attached Machine-Gun: In Shooting at +1cs
-Electric Shock: In Electrical
-Body Armor: Ex protection vs. Physical and Energy
-Rage: increase F and S by 1 rank but decrease R and P to Pr.

Equipment:
None

Limitations:
If her cybernetics are somehow disabled her F, A, S and E drop -3cs and she loses her powers.

Equipment:
None

Talents: Guns, Martial Arts A, B, E

Contacts: WildC.A.T.S.